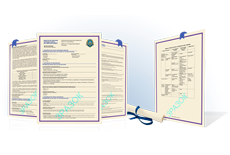 Attention customers Diploma Supplement European model.
From today, the process of ordering and preparing appendices to the European diploma, which meet the requirements of the order of the Ministry of Education and Science №102 from 25.01.2021, will take place in a test mode.
Ordering supplements to the European diploma is possible through the AS «Dekanat», or web resource «Register of educational institutions of Ukraine».
To join and receive detailed information, please contact your operators and / or write an e-mail asdiplom@osvita.net.