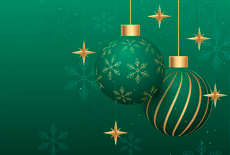 Congratulations on the New Year and Merry Christmas!
We wish to celebrate these traditionally bright holidays in a joyful, friendly, warm atmosphere. May prosperity and harmony reign in your homes, so that the spirit of the New Year will bring you the feeling of a fairy tale, and Christmas will give you faith in miracles!
We wish goodness, sincerity and mercy around you, love and happiness to your family! Justice and freedom, native Ukraine! Good luck, new achievements and fulfillment of the most cherished dreams!