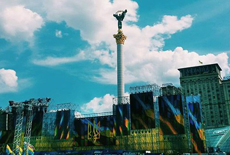 Dear citizens of Ukraine!
Heartily congratulate all on the national holiday – the Independence Day of Ukraine! This day, which is the result of thousands of years of struggle of the Ukrainian people for the right to have their own state that celebrated as the main holiday of our country.
On this solemn day national holiday, sincerely wish you good health and happiness, prosperity and well-being, life luck and success in your high ministry for the glory of Ukraine and its hard-working people.
Glory to Ukraine!