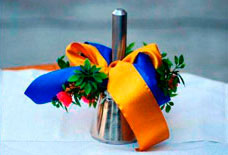 Dear teachers, students, the students!
Congratulations on the upcoming Day of Knowledge – a real national holiday of wisdom, kindness and humanity.
This particular day is always solemn and exciting, because it begins with a novel, interesting and at the same time difficult path to knowledge, for new challenges, to independent living.
We wish all the pupils, students on their way to conquer new heights of knowledge, meet good and reliable friends, and achieve their goals. We believe in your ability, perseverance will be key to outstanding success in adult life, and this will contribute to the high standards of Ukrainian education, equal opportunities in obtaining for each child.
Many thanks to all the teachers, who generously share their knowledge. Their wisdom and generosity is still with the pupils for life.
Let this year September 1 will be sunny, but also carries a good mood in every school, every family!
Happy holiday, dear friends! Happiness and prosperity to you!