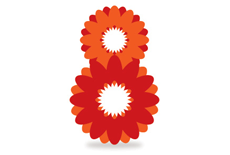 We wish you happiness and warmth, sincere smiles of spring, the sun in the soul. To fate, light, went into every window, even around the lilac blossoms and the sky will be clear.
Suppose you warms the soul beauty of spring, its delicate petals, and bottled spring water of love and happiness noisy streams.
For the life was the women happy and wonderful to always burning fire of love in his heart.
Let this spring to carry out all your wishes!